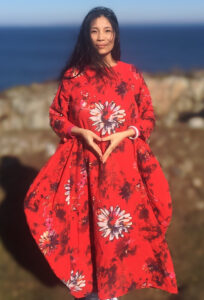 On this page, I write in English as it is my speaking language.
I am Ting Wikström, I come from China and moved to Sweden in 2008.  My wish is to bring traditional Chinese wisdom to improve your health and life quality.
I grew up in a family that has a passion for traditional Chinese culture. My father is good at calligraphy, Chinese painting, Chinese classical musical instruments and so on. He has been studying Taoist culture almost all his life. Influenced by my father, I was very much into classical literature and Taoist culture since I was very young and I love reading and writing poetry in the ancient Chinese language. This has provided unexpected, great benefits for my subsequent acupuncture activities and study.
When I was 15 years old, I bought an Ancient Chinese Medicine book in a second-hand bookstore. When I read it, I was amazed that Yin Yang and the five elements are so related to the internal organs of the human body and that the wisdom in it was the right thing for me. The reading of this book planted the seeds in me to learn Traditional Chinese Medicine (TCM) later.
When I chose to start to study TCM, it was because I live in Sweden and it was inconvenient to find TCM treatment here, I want to understand it by myself. Also, I felt lost and could not find my position in life here in Sweden. I wanted to learn something,  so TCM came to my heart. I began to study the acupuncture part of TCM. In the theory class, I was pleasantly surprised to find that a lot of the theories I was already familiar with it. Because TCM is based on Taoist culture, I also find that my passion for the ancient Chinese language helps me to read and understand the ancient medicine books easier, so it gives me a great opportunity to study the very essence of acupuncture.
In 2017,  I got both a Certificate of Completing an Acupuncture Technique Training and a Qualification Certificate of Talents in Traditional Chinese Medicine from the Hunan Provincial Association of Acupuncture and Moxibustion. In 2018, I was very lucky that one of my teachers, Dr Zhong, who is a PhD and medical, a practising physician and a professor at Hunan University of TCM,  was willing to teach me more of his clinical experience and essence that cannot found in any textbooks. Since then, I follow him regularly to study more and at deeper levels. The same year I started my personal growth and spiritual path, which has given me so much value in TCM practice and I am grateful. Previously, I graduated from Hunan Normal University in China and majored in Chinese Language and Literature. Before I move to Sweden I was working in copywriting, TV ad creative & script and marketing plan with companies like Samsung, Puma etc in China.
I know that I have chosen a subject that makes it worth spending my life with, so exciting and endless. The tiny small needles give me so much energy, confidence and meaning in life. And I love to share that with you.
Certified Acupuncturist on 2017.

Trained with a famous doctor (PhD) for traditional Chinese medicine at the University of Changsha, Hunan, China.

Combines Acupuncture with Qigong Daoyin for better results.

Have valid insurance for my treatments.

"

Working With People

"

2018 Osho Humaniversity Intensive.

2022 Started

"

Therapist Training level 1

"

at Osho Humaniversity